Even before COVID-19 struck our gym operated on an appointment only basis, and the entire facility was already set up for members to be able to train without having to share equipment and space in the first place. In fact, we have always reserved a separate fully-equipped training station for each member every time they have an appointment. Not only that, but we have never allowed anyone in the gym other than those with an appointment and their trainers. This approach placed us in an ideal position to deliver safe and effective fitness programs when COVID-19 arrived on the scene.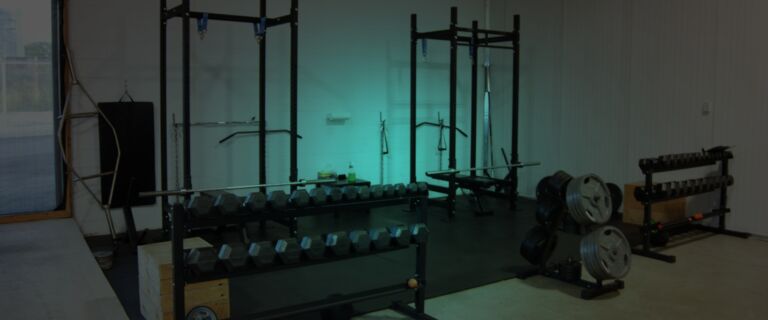 While other gyms and fitness clubs are struggling with how to keep their members safe while providing an effective workout, we already have years of experience working in a facility that was tailor made for social distancing right from the start. That's why we are confident that with the COVID-19 Safety procedures we've implemented, Kcal Fitness is one of the safest places you can be outside of your own home.
In addition to making sure the gym is regularly and fully cleaned and sanitized, our COVID-19 procedures are carefully designed to allow us to keep the gym and equipment in that condition throughout each day with minimal impact on the training experience of every member.
The following plan ensures that our facility is as safe for the last member to visit us each day as it is for the first. It is also in full compliance with all workplace recommendations from the Office of the Chief Medical Officer of Health for Ontario, and the Ontario COVID-19 Response Framework that took effect on November 7, 2020.
Our goal is to continue to provide a great training experience that yields exceptional results, while keeping our members and staff as safe and comfortable as possible.
Entry into the facility will be by appointment only, and the total number of people inside the gym will be limited to no more than 10 to provide ample room for social distancing and comply with all levels of protection measures at all times.
If you feel ill or have any reason to believe you may have been exposed to the SARS-CoV-2 virus (COVID-19) whether you feel ill or not, please inform us immediately, and do NOT come in for a workout until you're sure it's safe for you to return.
Please arrive ready for your workout without having to change clothing in order to minimize the time spent in the entrance area of the facility.
When you arrive in the parking lot please notify us by text and remain outside of the facility and away from the door until we signal that we are ready for you to approach the entrance.
Please allow us to open and close the door for you on your way in and out of the gym, and avoid touching the door or anything else in the entrance area.
Hand sanitizer and disinfectant spray that is on the Government of Canada list of approved products for COVID-19 will be used throughout the facility.
Members are required to wear a face covering to enter the facility and to sanitize their hands immediately upon entering.
Please do not leave any personal belongings sitting anywhere in the facility except where our trainers direct.
The main training floor of the gym will be maintained as a sanitized space at all times, and trainers are expected to re-sanitize all aspects of the space and the equipment within it on an ongoing basis.
All appointments will be limited to 60-minutes maximum.
We must have your current contact information before you may enter the facility.
Members are screened prior to each workout.
Our updated Safety Plan is available on this page at all times.
 We ask that all members comply with the Waterloo Region Face Covering Bylaw when entering, exiting and standing in common areas of the gym, but wish to emphasize that the bylaw and Provincial measures allow for the removal of face coverings while exercising if you find it impairs your breathing.
Staff will complete a pre-shift COVID-19 screening before the start of each shift, and wear a face covering at all times while on the main gym level (i.e. when not in areas designated for the exclusive use of staff).
Staff will use hand sanitizer whenever they enter the facility or return to the main gym level from the staff areas, and at the start of every new session.
After you have have entered the gym and sanitized your hands, please move to the workout station indicated by your trainer immediately.
Physical distancing of 2-meters should be maintained at all times while inside the facility, unless the Region is moved to the Yellow (Protect) Category or above, in which case a distance of 3-meters must be maintained. Please follow the instructions given by your trainer with regard to moving around the gym in order to maintain social distancing.
Our washroom, changerooms and staff areas are NOT open or available to the public until all COVID-19 restrictions have been lifted. We cannot re-sanitize these areas after each use without taking time away from someone's workout, so we cannot guarantee they will be sanitized for the next user.
Only the trainers will be allowed to load and unload weight plates, change weights or position and adjust equipment. This is to ensure that each client will only be touching surfaces that their Trainer can easily re-sanitize on an ongoing basis, and that the rest of the equipment remains sanitized for everyone that follows them that day.
Please refrain from touching, sitting on or leaning against surfaces throughout the facility, as it could add greatly to our cleaning workload and detract from someone's workout.
Trainers must keep track of everything touched by members and themselves and immediately re-sanitize it after each use or contact, so that it remains safe for the next member.
Some equipment has been removed from use until COVID-19 restrictions are lifted if we have determined that keeping it sanitized on an ongoing basis will be problematic. This equipment will not return until all COVID-19 restrictions have been lifted.
Trainers are permitted under Provincial regulations to be closer to a member than allowed under social distancing guidelines when it is necessary for safety or training purposes, but will otherwise distance from members.
Trainers must re-sanitize their hands either with hand sanitizer or approved disinfectant whenever they touch something that has been touched by a member or they touch their face or face covering.